2011
The Jamaica Wrestling Federation was founded by Kevin Wallen as the National Governing Organization (NGO) of the sport of wrestling from youth through the Senior Olympic level for beach, freestyle, and Greco Roman wrestling.

The successful effort of the International Wrestling Community to have Wrestling reinstated in the Olympics is a great example of the democratic ideal at work. Former wrestlers, Wayne Smythe and Rick Henry view the work Kevin Wallen is doing in Jamaica in the same light as a part of the expansion of Wrestling in the Commonwealth at a critical time in the history of Wrestling.

Kevin Wallen wrestled for Jamaica at a Commonwealth Championship in Melbourne, Australia August 5-7 2011, partially funded through the Commonwealth Wrestling Association.
2012
The news of Olympic Wrestling in Jamaica first found my ears in the Royal City, Guelph, Ontario, Canada, March 2012.

March 2012, FILA supplied the (JWF) with the first wrestling mat in Jamaica.

With assistance from Josip Mrkoci, Chair of the Commonwealth Wrestling Association, the current status of (JWF) and suggestions for helping and moving the initiative forward.

The Commonwealth Wrestling Association was also able to support in the following ways:

Harry Curtis – Wrestling coach/teacher from Thunder Bay, Ontario, Canada to go to Jamaica for 3- weeks in April 2012 to facilitate some wrestling clinics.
Owen Dawkins – Head Coach of the University of Alberta was also able to visit Jamaica for 3 weeks in July 2012.
Kris Kelman – Head coach of Heartlake Secondary School in Brampton, Ontario, Canada and Rick Henry from Texas, USA also made the trip in the summer of 2012.
2013
Wayne Smythe had a conversation with Kris Kelman at the, Ontario, Provincial, High School Championships, OFSSA, in March 2013. He suggested that what is needed in Jamaica re helping Kevin Wallen build the infrastructure for Olympic Wrestling could not be done at arms length, meaning that one of us would have to move to Jamaica and commit to the Head Coach Position.

On May 2013, Wayne Smythe decided to fund a business trip to Jamaica, to do a personal and business assessment surrounding the initiative. Rick Henry and Wayne Smythe agreed to meet Kevin Wallen few training sessions at the Chinese Benevolent Centre on, Old Hope Road. The three of us spent time getting reacquainted and visioning the future of Olympic Wrestling in Jamaica.

In June 2013, Kevin Wallen and Wayne Smythe negotiated a contract for the head coach position. We established a tentative membership list, created a budget, and set an agenda.

In June 2013, the newly formed, JWF, had a well-received meeting at GC Foster Teachers College in regards to adding wrestling to the physical education teachers curriculum.
2014
January 18, 2014 Jamaica was represented at the Guelph Open in Guelph Ontario Canada, see the link below.

Source: https://www.guelphmercury.com/sports-story/4324117-guelph-open-attracts-jamaican-national-wrestling-team/
2015
FILA rebranded United World Wrestling (UWW)
2016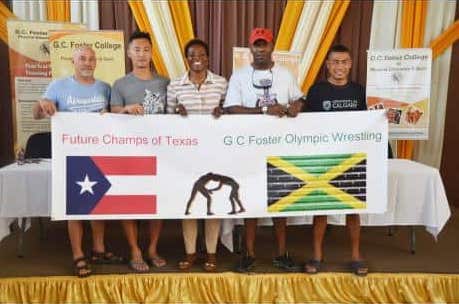 GC Foster College, Principal, Joyce Graham-Royal , approves wrestling on the curriculum at the tertiary institution.
Principal of G.C. Foster College of Physical Education and Sport in St Catherine Dr Joyce Graham-Royal (centre) shares a photo opportunity with members of the Future Champs of Texas organisation, who staged a five-day wrestling workshop at the institution from August 22-26. They are (from left) Michael Campitelli, Robert Zee, Rick Henry and John Cho.

The G.C. Foster College of Physical Education and Sport, which has produced some of the country's most outstanding athletes and coaches in various disciplines, is adding wrestling to its programme offerings.

"We have all the equipment that we need to ensure that this happens," says principal of the St Catherine-based institution, Dr Joyce Graham-Royal.

"We have the personnel as well to ensure that a broad-based foundation is set for this course," she added, noting that the introduction of wrestling at the college "will bring tremendous opportunity for students to be exposed to a new discipline".

Graham-Royal pointed out that Jamaica is "filled with persons who are naturally quick and we naturally run fast, but we need to introduce other sports that we know we will do well in or that we know we can compete in at the Olympics. Wrestling is, in fact, an Olympic sport for both men and women."
Source: https://jis.gov.jm/wrestling-introduced-g-c-foster-college/
2017
Future Champs of Texas hosts first-ever combat sports camp at GC Foster College.
2018
In February 2018, Jamaica earned its second international medal won by Lesyan Cousin at the Central American and Caribbean Championship in Havana, Cuba.

In April 2018, Kevin Wallen competed at the 2018 Commonwealth Games on the Gold Coast of Australia.

In May 2018, Lesyan Cousin and Yosvany Grant competed for Jamaica at the 2018 Pan Am Championships in Lima, Peru.

In October 2018, Yoandrys Grant competed in freestyle at the 2018 world championships for Jamaica in freestyle in Budapest, Hungary, while Lesyan Cousin competed in Greco Roman.


2019
In April 2019, Lesyan Cousin (87 kg, Greco Roman) and Angus Arthur (86 kg freestyle) competed at the Pan Am Senior Championships in Buenos Aires, Argentina.

June 2019, Angus Arthur finished third at 86 kg at the 2019 Canada Cup.

August 2019, Angus Arthur competes for Jamaica at the 2019 Pan Am Games.

In September 2019, Angus Arthur competed at the 2019 Senior World Championship in Kazakhstan.

Finally, Angus Arthur become the first Jamaican to compete at an age-group world championship as he competed at the 2019 u23 world championship in Budapest, Hungary.
2020
In February 2020, Lesyan Cousin placed 3rd at the Cerro Pelado in Cuba.

In 2020, both Cousin and Arthur both competed and placed at the 2020 Pan Am Championships and Pan Am Olympic qualifiers.

April 2020, all wrestling events worldwide were postponed due to Covid-19 Pandemic.
2021
In May 2021, Lesyan Cousin competed in the Last Chance Olympic qualifier in Sofia, Bulgaria then later in November 2021, 3x NAIA All-American, Aaron Johnson competed at the u23 world championships in Belgade, Serbia.
2022
In July 2022, Aaron Johnson places first at 125kg and Jordan Mitchell in his international debut places third at the 2022 Canada Cup in Prince Edward's Island.
In August 2022, Aaron Johnson became the third Jamaica to compete in wrestling at the 2022 Commonwealth Games. Johnson finished in fifth place at the 125 kg weigh class.
In November 2022, Jamaican wrestlers, Aaron Johnson, Lesyan Cousin, and Theron Rose-Green participated in the 2022 New York Athletic Club Bill Farrell International Open in New York City.
In December 2022, in a historic weekend at the 2023 Central America and Caribbean Games qualifiers in Santo Domingo, Dominican Republic, Team Jamaica competed in all three divisions namely Men's Greco Roman, Women's Freestyle, and Men's Freestyle.
The wrestlers were Jabarie Campbell (Men's GR), Sierra Brown Ton (Women's FS), Jordan Mitchell (Men's FS) and Aaron Johnson (Men's FS).
Sierra Brown Ton became the first female to compete for Jamaica internationally at a UWW (United World Wrestling) competition and the first female to win an international match in Jamaica's wrestling history.
3rd place for finish for Aaron Johnson at 125kg and Jordan Mitchell at 65kg in Men's freestyle.
5th place finish for Sierra Brown Ton at 62kg in Women's freestyle.
All three wrestlers qualified their respective weight classes for the 2023 CAC Games.